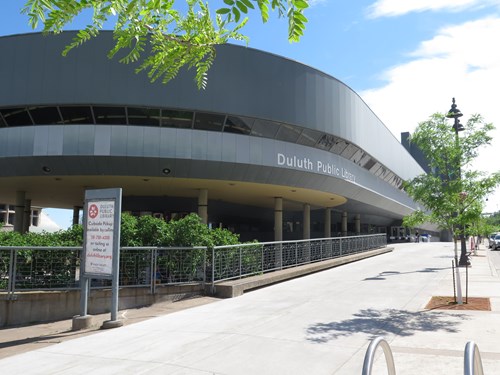 Curbside Pick-up 
1. Pull up to one of the designated spots near the Superior Street entrance of the Main Library. Please do not block the bus stop. If you are coming by bus, on foot, or by bicycle, there are two designated spots (numbered 5 and 6) near the tables. If you do not have a cell phone, you can wait here for a staff member.  
2. Follow the directions on the sign to let staff know you have arrived. Follow the link in your notification email, or text the number on the sign. This is not a telephone line. If you have questions, please call 218-730-4200 option 3.
3. Staff will communicate with you via text or message, check out your items, and deliver them to the table by the door.
4. Returns are accepted in both the Superior Street and Michigan Street book drops at the Main Library 24/7 and at both library branches!
5. If you are converting your E-Access card to a regular library card, please show a library staff member your government-issued photo ID and proof of current address. 

No-Appointment Curbside Pick-up hours:
Monday: 10:00 am - 5:00 pm
Tuesday: 10:00 am - 8:00 pm
Wednesday: 10:00 am - 5:00 pm
Thursday: 1:00 pm - 8:00 pm
Friday: 10:00 am - 5:00 pm
Saturday: 10:00 am - 5:00 pm (Labor Day through Memorial Day only)
---
Curbside FAQ