Library Card Sign-Up Month 2022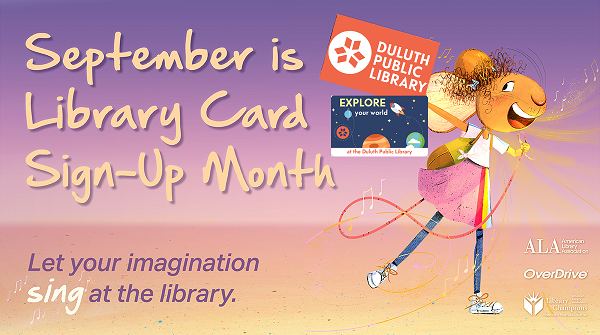 Show your library card and $ave in September!
Check out these special deals for Duluth Public Library cardholders at local businesses!
First launched in 1987 by the American Library Association, Library Card Sign-Up Month was created to ensure that every child is able to obtain a library card and use a library card. Since then, thousands of public and school libraries have joined each fall in a national effort to ensure every child does just that. As students return to school this month, we are reminded that a library card is a powerful tool for learners of all ages.

Starting September 1st, most library cards will never expire. There will still be occasional checks to make sure your contact information is up-to-date, but your card will remain active if you use it. With this change, we hope to make it easier for you to use the library and all of its resources.

To celebrate Library Card Sign-Up Month, the Duluth Public Library is partnering with local businesses and organizations to offer these special promotions for our cardholders throughout the month of September.